Eclectus Parrot Specialists
How to care for your Eclectus
"You become responsible forever, for what you have tamed"
- Antoine De-Saint Exupery, The Little Prince
Eclectus are a unique species of parrot and require specialized care. Our website is devoted to helping Eckie owners from around the world, confidently care for their parrots. Our focus is to share the knowledge we have gleaned from over a decade experience keeping, breeding, hand raising and working with companion Eclectus.
Kirsten Badham is a parrot lover and Eclectus specialist. She assists Eckie owners all over the world to care for their pet and breeding Eclectus. Kirsten has extensively researched the behavioral traits, mannerisms and temperament of this enigmatic species. She continues to study their dietary requirements, hormone fluctuations, breeding, health, incubation, hand raising, psychological requirements and developmental patterns.
Kirsten is the Author of 'The Ultimate Guide to Eclectus Parrots', which is currently the largest and most comprehensive companion Eclectus eBook to date. She has written articles for Parrots Magazine, Australian Bird Keeper and The Parrot Society of Australia and continues working to further the understanding of the Eclectus Parrot.
In 2012, Kirsten chose to retire her breeding Eclectus and focus on avian education and re-homing parrots in need. Her 25 Eckies are now retired and live a life of luxury in their large communal flight. Kirsten and her husband, Jason, are currently working on their second book and have many future projects in the works.
We hope that you enjoy our website. For more information on Eclectus care, don't forget to browse through our Blog, and view our reference book.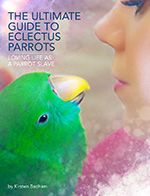 'The Ultimate Guide to Eclectus Parrots' provides detailed information and teaches owners how to confidently care for their parrot. Whether you are buying your first Eclectus, or have owned one for many years, there is always something new to learn. Filled with real life examples and amusing anecdotes, it gives insight into life through your parrot's eyes.
Features unique to our book:
Available on the iPad
387 pages in length
Over 240 full-color photos
40 Illustrations
14 HD quality videos
The largest and most comprehensive companion Eclectus parrot book to date